We have been growing high-quality hardy perennials in Colorado Springs since 1979. Growing perennials in Colorado is tricky business. It's hot in the summer, cold in the winter and dry ALL the time - not the perfect environment for anything living to stay alive!  We have spent decades experimenting, testing, trying (and sometimes failing!) at developing ideal environments and procedures for perennials to thrive.
Growing perennials in Colorado is tricky business.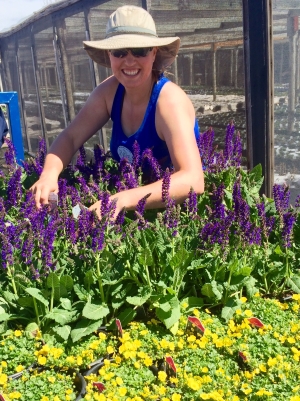 Plants have personalities just like people. They require specific care for their various temperaments and we take pride in our knowledge of those personalities and in our proficiency in cultivating temperamental perennials. We have discovered not only how to keep perennials growing in the summer, but thriving all year long. The secret is managing perennial dormancy. We stock over 100,000 perennials in our cold-frame greenhouses through each winter so they'll be ready to pop to life in the Spring!
We have 4.5 acres of developed production facilities including fields, greenhouses, shade houses and solar houses.  Since we are strictly a wholesale grower, we spend most of our time cultivating and maintaining our plants. We grow our plants from seed germination, splits and cuttings from our own mother plants and potting up young plants from other growers.
We have carefully selected the 350+ varieties of perennials and ornamental grasses we grow based both on their aesthetic appeal, their popularity and their cold hardiness. Our online listing of our inventory of perennials is intended to be a shared resource for everyone interested in growing perennials in Colorado: individual gardeners, landscapers, professional growers and retailers alike. After pouring our time, expertise and love into every pot, our flowers will stand the test of time in any garden or landscape!